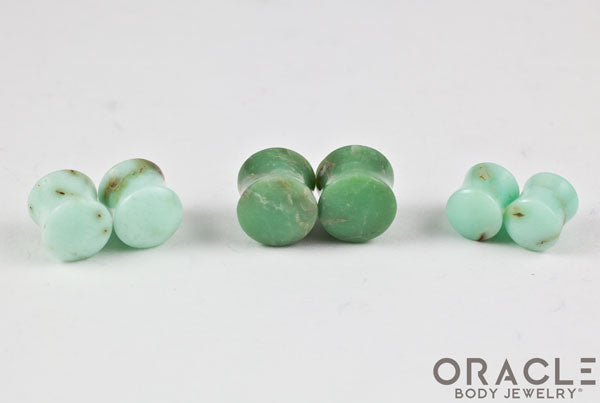 • Available in sizes 8g (3mm) through 3/4" (19mm)
• The wearable length from sizes 8g through 00g is 3/8" (9.5mm)
• The wearable length from sizes 7/16" through 3/4" is 1/2" (12.7mm)
• The flares measure about 1/16"
• You will receive a pair similar to those in the photo.
• Chakra- Heart (4th)
• Metaphysical- Chrysoprase is said to be a very strong healing stone in the way of heartache caused by breakups and lost loved ones. It is said to dispel fear from one's senses, and to help cope with the pain and suffering of past abuse.
• About- Chrysoprase is a member of the quartz group and also the most valued stone in the chalcedony family.
• These are sold as a pair.