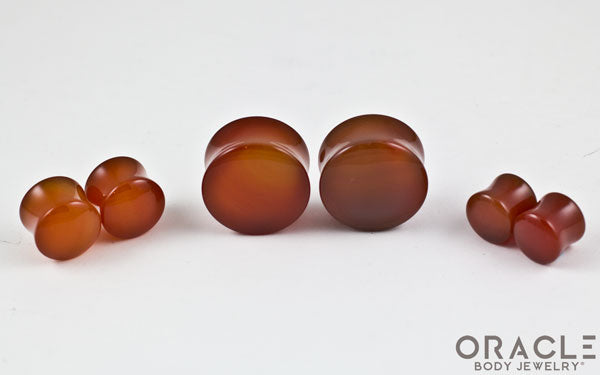 • Available in sizes 8g (3mm) through 1-1/4" (32mm)
• The wearable length from sizes 8g through 00g is 3/8" (9.5mm)
• The wearable length from sizes 7/16" through 1-1/4" is 1/2" (12.7mm)
• The flares measure about 1/16"
• You will receive a pair similar to those in the photo.
• Chakra- Sexual/Creative (2nd)
• Metaphysical- Carnelian is said to be a very powerful stone known to assist people in gaining the courage and drive to meet their goals by pushing themselves to a higher level. People of a timid and shy nature often use this stone to help them open up and take action in certain situations that have previously been avoided. Carnelian is also said to aid with the lower digestive system, and may be useful to some when they are coming off harmful habits and addictions.
• About- Carnelian is a chalcedony, with the very best specimens coming from India. Most of the carnelian that is on the market, however, is from Brazil and Uruguay, The color of this stone can range anywhere from a very pale to a darker orange color.
• These are sold as a pair.