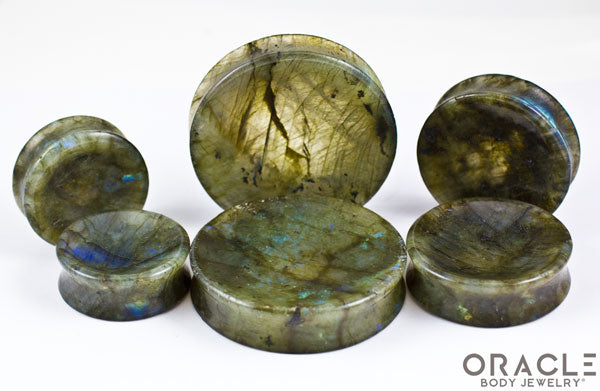 • These are available from sizes 1-3/8" through 3" with a 1/2" wearable.
• These are sold as a pair.
• You will receive a pair similar to those in the photo.
• These will have specks of flash in them.
• Due to how we process these in polishing, they may have very slight irregularity and chipping around the flares which will not affect the wearing.
• Chakras- All
• Metaphysical- Labradorite is said to be a stone of magic and protection, and may assist one in jumping realms in association with higher beings on all levels. It may also help one to find the root of the reason behind their thoughts and beliefs.
• About- Labradorite belongs to the feldspar group and is a sodium calcium aluminum silicate. The name comes from the original location that the stone was found in the Canadian Labrador peninsula in the mid 1700's. Since then it has also been found in Madagascar, Mexico, Finland and the United States.