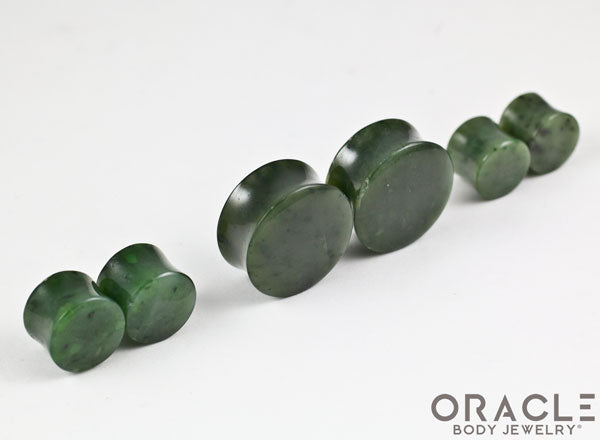 • Available in sizes 8g (3mm) through 1-1/4" (32mm)
• The wearable length from sizes 8g through 00g is 3/8" (9.5mm)
• The wearable length from sizes 7/16" through 1-1/4" is 1/2" (12.7mm)
• The flares measure about 1/16"
• You will receive a pair similar to those in the photo.
• Chakras- Heart (4th)
• Metaphysical- Green Nephrite Jade is said to help with all heart related issues. It may strengthen the heart by helping with circulation and nervous system issues, and is also said to help to balance one's emotional status and stability.
• About- Jade is a name that is actually shared by two different minerals, jadeite and nephrite. Nephrite Jade has fine interlocking crystal bonding structures that are almost feather like, making it quite a tough stone, and very popular for carving.
• These are sold as a pair.