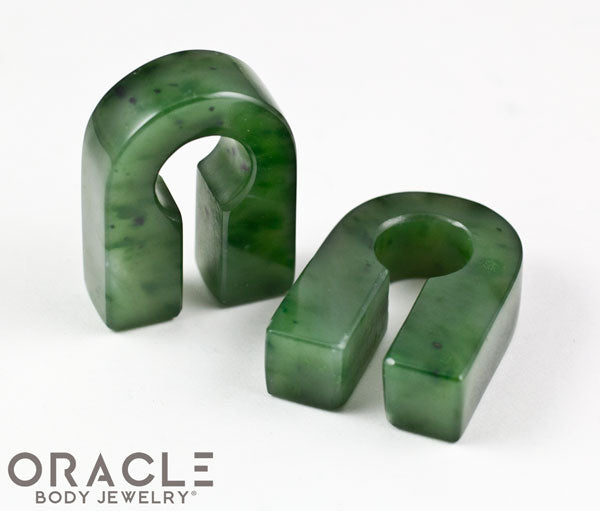 • These are about 1-7/16" (37mm) tall and 1-1/16" (28mm) wide.
• 6.5mm insertion gap.
• These weigh about 21.7 grams each.
• All keystone weights are sold by the pair.
• The inner diameter is 1/2" (12.5mm)
• You must be at least 9/16" (14mm) or larger to be able to insert these.
• All edges are nicely rounded for comfort and extreme care has been taken during the carving process.
• Chakras- Heart (4th)
• Metaphysical- Green Nephrite Jade is said to help with all heart related issues. It may strengthen the heart by helping with circulation and nervous system issues, and is also said to help to balance one's emotional status and stability.
• About- Jade is a name that is actually shared by two different minerals, jadeite and nephrite. Nephrite Jade has fine interlocking crystal bonding structures that are almost feather like, making it quite a tough stone, and very popular for carving. The colors of nephrite can range from white, apple green to dark green, brown, black, blue, purple, and even red to pink in rarer form. There are many stones that are falsely labeled as jade, and sold under the common names of new jade, china jade, and butter jade, amongst others. These are most often other stones, such as serpentine, that are sold under these trade names and are not truly Jade at all. Nephrite is mined in very large amounts in British Columbia, New Zealand, Siberia and South Korea and other locations. Nephrite and jadeite have such a rich history that I could not possibly write enough about it. It has been fashioned into weaponry, used for currency, and even used as carvings and burial decorations from over 7000 years ago.