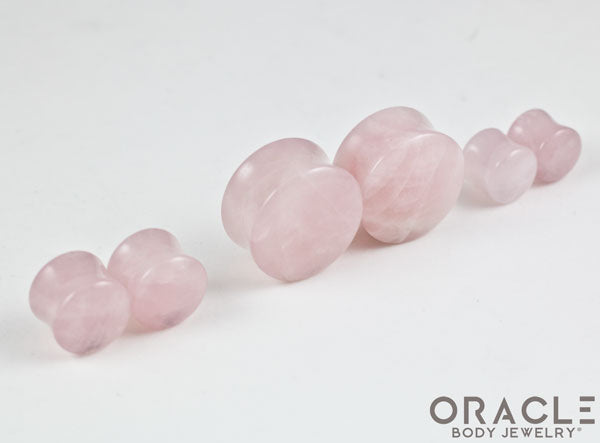 • Available in sizes 8g (3mm) through 1-1/4" (32mm)
• The wearable length from sizes 8g through 00g is 3/8" (9.5mm)
• The wearable length from sizes 7/16" through 1-1/4" is 1/2" (12.7mm)
• The flares measure about 1/16"
• You will receive a pair similar to those in the photo.
• Chakras- Heart (4th)
• Metaphysical- Rose Quartz is said to have one of the strongest energies towards all things that are love-related. It has been said to enhance relationships on a mental and physical level, understanding towards others, and even to assist in physical changes like weight loss and other long term goals.
• About- Rose Quartz is a member of the quartz family and has a coloring that varies from pale to dark pink. Sometimes slight traces of rutile (or titanium oxide) are present in this material and you will get a small to medium cat's eye effect in the stone; this is what is referred to as star rose quartz. The stone is found in many localities, with the most highly prized coming from Brazil.
• These are sold as a pair.